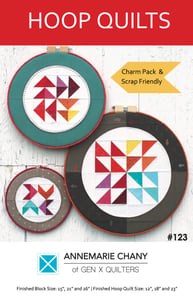 $

12.00
Gen X Quilters has moved to annemariechany.com! You can still order patterns here - but there is a bigger selection (including PDFs) in the new pattern shop.
PDFs: https://www.annemariechany.com/pdf-patterns/
Printed Patterns: https://www.annemariechany.com/shop/
Hoop Quilts are a super way to turn a mini quilt into something exciting. This pattern contains instructions for making 3 different quilt hoop sizes. Choose your favorite or make all 3. Add as much quilting as you like by hand or by machine, and then finish the piece by wrapping the outer ring of a large quilting hoop in fabric. Fast, fun and fresh! Arrange your HSTs any way you like.
Charm (5" square) and Scrap Friendly!
Skill Level: Advanced Beginner - Intermediate
The 8-page full color professionally printed pattern gives you fabric requirements, step-by-step instructions and color photos and diagrams for the hoop quilts. It contains a separate 11"x17" insert with full scale templates for all sizes. The pattern also contains links to additional video tutorials that supplement the written instructions.
Finished Sizes: 12", 18" and 23" hoops
Fabric Requirements: Fabric varies by hoop size. See Pattern Back Cover for details.
Please do not copy or share any part of this pattern. Feel free to sell products made with this pattern, but do not mass produce. Please list designer attribution on products.
Please feel free to contact me with any questions. [annemarie@genxquilters.com].