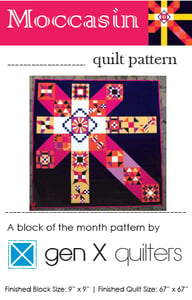 $

30.00
Gen X Quilters has moved to annemariechany.com! You can still order patterns here - but there is a bigger selection (including PDFs) in the new pattern shop.
PDFs: https://www.annemariechany.com/pdf-patterns/
Printed Patterns: https://www.annemariechany.com/shop/
The Moccasin Sampler takes the traditional skill-building Block of the Month concept and gives it a fresh spin using a fun and funky modern setting.
Finished Quilt Size: 67" x 67
Finished Block Size: 9" x 9"
The Moccasin BOM contains:
• 11 Block Patterns
• Instructions for Assembling the Quilt Top
• 12 Month BOM overall (12 blocks in 11 patterns + quilt top assembly)
• Each pattern has complete instructions, full color photos and diagrams. Each Pattern bagged separately.
Skill level: Intermediate
Most months will have participants making 2 blocks.
Build These Skills:
-Half-Square Triangles
-Flying Geese
-Nine-Patch
-Rail Fence
-Diamond-in-the-Square
-Strings
-Curves
-Triangles
-Appliqué (Dresden Plate)
Two blocks have curves, one block uses an odd shape similar to an equilateral triangle, and one Dresden Plate block teaches appliqué. Four blocks use templates - all others are pieced. No paper-piecing. No y-seams.
Moccasin was run as a Block of the Month Club in 2015.
Fabric Requirements:
2 1/2 yards Indigo Solid
1 3/8 yards each Pink and Orange Solid
7/8 yard each Purple and White Solids
1 1/4 yards Yellow Solid
5/8 yard Brown Solid
1/3 yard Light Pink Solid
4 1/4 yards Backing
1/2 yard Binding
Enjoy!
Please feel free to contact me with any questions. [annemarie@genxquilters.com].