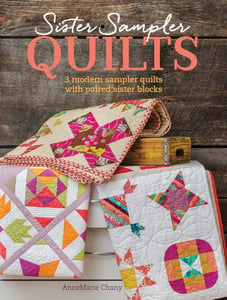 $

19.99
Gen X Quilters has moved to annemariechany.com! You can still order patterns here - but there is a bigger selection (including PDFs) in the new pattern shop.
PDFs: https://www.annemariechany.com/pdf-patterns/
Printed Patterns: https://www.annemariechany.com/shop/
Create beautiful and unique modern samplers with Sister Sampler Quilts. Traditional piecing methods combine with fun modern layouts in these 3 samplers with a twist. What's the twist? Instead of creating just one of each block, all blocks in this book are made as "sister" pairs. Create them to your liking as identical twins, color inverted pairs, or completely scrappy sets.
Inside are 25 interchangeable sister blocks and 3 sampler quilt designs that challenge traditional grid layouts with fun, innovative settings. The quilts beautifully bridge the gap between traditional and modern. Whether you're a beginner or a more advanced quilter, you'll enjoy practicing and perfecting quilting basics, like half-square triangles, flying geese and hourglass blocks, to beautiful effect. Modern traditional quilting is the perfect way to blend old and new techniques to create a quilt that's uniquely yours!
•25 interchangeable quilt blocks in 2 sizes (9" and 12" finished blocks)
•3 modern sampler quilt layout designs
•Create quilt blocks as "sister" pairs to learn about color placement, practice piecing techniques and create balance in your sampler
Sister Sampler Quilts:
3 Modern Sampler Quilts with Paired Sister Blocks
By AnneMarie Chany
128 Pages ; 8 1/2" x 10-1/2"
ISBN: 978-1440245039
All copies are signed by the author.
Shipping in the U.S. only.